Atex Digital Media
EASY TO USE CONTENT MANAGEMENT THAT MAKES YOUR BUSINESS FLY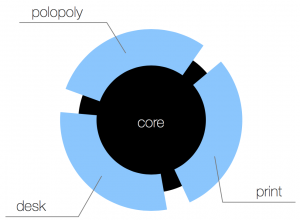 Atex Digital Media is a flexible content management platform. It is open, modular and scalable. The different Atex Digital Media components can be combined as a single solution to gather content, manage assets and coordinate content production and publishing workflows. On any channel. Atex Digital Media is easy to use and cloud enabled, ready to bring your business to new heights.
dm.desk – A new approach to digital content&asset management! A responsive, modern and mobile-friendly UI for managing the complete content lifecyle, from planning to multi-channel publishing.
Content authoring and publishing on digital and print channels with production ready previews.
Editorial workflow with integrated archive, wires, contributors and picture desk.
Editorial planning, task assignment and Slack™ integration.
dm.print – Produce monthly magazines or run multi edition/multi zone daily newspaper operations. Full edition planning and production monitoring, advertising planning and integration with ad booking platform included.
dm.polopoly – Build your online presence on desktop and mobile devices. Modular design and multi level caching ensures limitless development options and high performance.
dm.polopoly is a modular full-stack Web CMS for fast multi-channel publishing! Manage all of your online properties across all channels from one browser based UI. Polopoly covers everything from sophisticated content management to managing sites and navigation and what´s best with an built-in Paywall and content packaging features that allows you easilyto mix, test and publish your content in various ways.
Scoop Publishware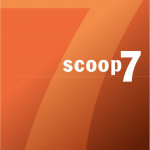 Scoop is a editorial system that is very easy to learn and but still powerful to produce and handle content with both on Print and Digital channels. A well powered technical and modular system solution for packaging and format your content. This system is really cost effective and it´s easy to build workflows that suits your needs.
ScoopEdit
is a newsroom workflow and content management system. It organizes copy and facilitates access to baskets, assignments, stories, article update history and other editorial essentials. Writers, photographers, paginators, editors and managers can easily access, create, edit and move articles.
Database Manager
Centralized control over the configuration of the majority of the system.
Includes configuring Users, Groups, Baskets, and Styles in place… and so much more!
We can even import styles from InDesign now!
Content Manager
Importing, exporting, moving, converting and cleaning of content.
NEW - Event driven tasks
NEW - Watched folders for instant actions
NEW - Receive emails and convert them to an article
NEW - Better long-term logging
Scoop 7 can exchange material from and to most CMS's.
Product Manager
Centralized product handling, creating of InDesign documents and production overview.
Includes configuring product templates, creating and updating products.
PageTrack
provides a total overview of your editorial product at a glance. Live thumbnails, previews and page status indicators offer information on each editorial page during the pagination process, updated in real time.
eLibrary
is an editorial archive that locates published articles quickly and easily. Web-based searches, both simple and advanced, provide complete results including article text, graphics and PDF documents.
Plan First
THE FUTURE OF PLANNING MEDIA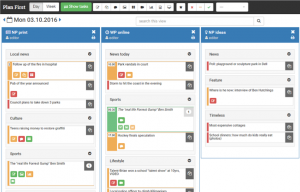 "Planning is the easiest way of increasing quality of journalism."
PLAN FIRST is a planning tool designed by journalists to journalists. With Plan First you can make, change and share plans for multiple channels, between media houses, journalists and freelancers. You can manage ongoing deadlines and digital workflows, maximize efficiency with re-use of content and co-operation, and maybe most important, work digital first but without neglecting print.
Plan First's main task is to support todays multichanneling and multiple tasking work, including features as: • Make and change plans for multiple channels • Share plans between channels, media houses, journalists • Manage ongoing deadlines and digital workflow • Maximize efficiency with re-use of content and co-operation • Work digital first but without neglecting print • Handle to-do's for a team or just yourself • Analyze production and set goals • Daily, weekly and long-term planning • Easy to learn, Intuitive UI, drag and drop • Use with any device anywhere • Manage calendar and task lists • Built-in analytics • Can be tailored to different user needs and roles • Unlimited number of users, no license fees • SAAS, monthly charge based on the number of channels • Rest API for easy integrations
Innocode
CREATE NEW REVENUE STREAMS WITH INNOCODE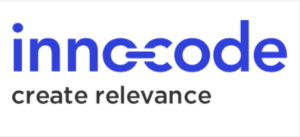 Innocode has developed a portfolio of innovative products that enable local media companies to build user loyalty and create new revenue streams by leveraging social media at the hyperlocal level. . Events, anniversaries, club information and other local content form the glue of our society. It is not about making something of little relevance available to many, but providing content of high relevance to each individual in a timely and cost-effective manner. The more relevant content you provide, the more valuable you become. All our products have this goal in common.
Innocode's products are all white-label, fully customizable for your organization. If you are a local media company, a member of an organization, a local government organization, or any kind of company or organization providing local content, our products will enable you to aggregate, curate, and distribute this content in an easy and user-friendly way, generating traffic and new revenue.
LOCAL OFFERS - Swift and super-easy tool to add and aggregate social media content from local stores and businesses. 
MOMENTS - User created moments. Presented by you. 
CLASSIFIED - Innocode Classifieds is a modern and highly flexible platform that will automate production, modernize the presentation and give the advertiser a great user experience.
MARKET - A new and flexible self-service content marketing platform
COMMUNITY - Reclaim ownership of user-generated content
CALENDAR - Take ownership of local events
NEWSAPP - Offer a tailored and flexible news experience
RELEVANCE PANEL - Flexible and innovative tool
SOURCES - The latest news from your predefined sources, all filtered to create higher user relevance.
Tosibox Remote access
TOSIBOX REMOTE ACCESS SO INTELLIGENT IT'S EASY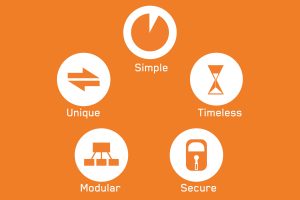 TOSIBOX delivers fast and easy remote access to your machines and devices. It takes less than 5 minutes to deploy and it connects almost anything to any network without a need to open any firewall access. Tosibox's patented Plug & Go™ technology makes creation of secure remote connections easier than anything else on the market. It works with all types of internet connections worldwide.
If you want to know what benefits you as a mediapublisher get when handling remote users, reporters and freelancers with Tosibox secured remote access connections, just contact us. We will tell you more.
FIVE REASONS TO CHOOSE TOSIBOX
We have taken connectivity and made it simple. Our people, technology and software have created a new standard for secure IoT connectivity, remote maintenance and network management. The award-winning TOSIBOX® products are manufactured in Finland and used worldwide.
Tosibox – Simplifying IoT.
1. Simple - Build and manage secure IOT infrastructure in minutes
Easy configuration-free Plug & GoTM implementation without special IT skills
Create and manage access groups: Limit access, add new users and objects simply by drag and drop. IT/OT convergence solved.
"Self-healing" network: TosiOnlineTM automatically reconnects dropped connections.
2. Timeless - Deals with legacy and future systems
Technology makes the legacy hardware and future systems compatible.
Internet connection, operator, and device agnostic
Works both in internal and external networks.
3. Secure - Tested and audited security
Technology based on two-factor authentication, automatic security updates and latest encryption technology
One TOSIBOX® Lock device protects all devices behind it.
4. Modular - Unlimited expandibility and flexibility
Easily extend the network when you need to.
Grow from one object to thousands, without changing the system.
5. Unique - Globally patented point-to-point connection
Point-to-point data flow: data streams directly between two modules, no cloud
Two-way communication offers the benefits of IoT plus remote maintenance with one technology. Tosibox is a globally awarded solution
If you want to know more about the products you can also contact Tosibox support directly. Read more...
Mediapocket
SMART MEDIA MANAGEMENT WITH MEDIA POCKET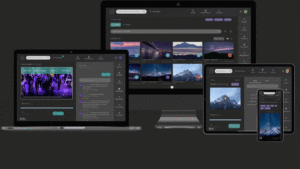 Work efficiently with your media assets.You need an intuitive, safe and affordable platform to organize, sync and share your media to match the demands of today's media-centered world.
Whether you're a marketer, creative or a producer, Media Pocket suits your DAM, MAM, PAM needs with its scalability and versatility. Use Media Pocket as it is or integrate with existing platforms to create a flawless content workflow. DAM can be more FUN!